Know More About Dangers of Mice Infestation
While a little mouse might look cute and handsome, the truth is that they could cause quite a lot of issues. The professionals warn that small mice are usually the cause of big troubles! While they look for food and for shelter, they will create small entry points in your walls in order to enter the inside. The problem is that they will chew on and pierce through pretty much everything, leaving feces and urine along the way, contaminating food and introducing a range of particularly dangerous diseases. This subjects you and your family to a wide range of different problems, some of which are particularly dangerous.
With this in mind, whenever you spot the signs of mice lurking through your house, the pros advise that it's absolutely important to contact experts to handle the issue on the shortest notice. Some of the signs that you might want to take into account include: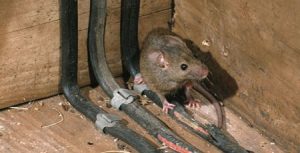 Musky odor in the home
Finding grease or marks of dirt on the walls
Hearing scratching noises behind the walls or above your ceiling at night
Finding droppings on the floor, in cabinets and in drawers
Seeing certain gnaw marks left on food packaging, flooring, furniture or clothing
Now, the reaction of the majority of homeowners in situations of the kind would be to immediately run to the local hardware store in order to buy mouse traps. While these might work, professionals suggest that you refrain from the approach. This isn't an effective method of handling the pest issue and at the same time they could be potentially dangerous to small kids and children alike.
The thing that you should do is to contact an experienced mice exterminator. This is a professional who has specialized in handling issues with mice. They are likely to institute a long-term pest control program which is going to make sure that the issue is being dealt with in the long term. Alongside the plan, you might want to consider certain things on your own. For instance, you might want to repair any areas around the house and inside it which might allow mice to come inside. Refrain from leaving food on tables or out in the open and make sure that vent covers are properly secured.
With this in mind, do not underestimate the problems that a little mouse can cause. This is something particularly dangerous and it could introduce incredibly serious diseases which are very threatening to people. This is especially true if you have little children as they are very vulnerable to pathogens of the kind. That's why you should be even more cautious and careful if you have a baby in the house, for instance. It is important that you work with professional pest control service, so that the right techniques are used. You may call in the local pest control company and let them know about the infestation. They will evaluate the infestation and give you a free quote.